Visit My Online Store
Affiliate Links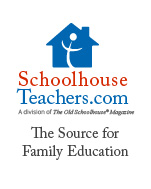 Read TOS FREE
Visit Our Sponsors
Different kind of post
Thursday, August 26, 2010
Since this blog is about our life as a whole and not just our homeschool experience, I am takin a little detour from the education posts today. You may or may not know that our family has suffered tremendous loss in the past few years. It has been a very difficult time for us to say the least. The grief has effected every area of our lives. Most especially my writing has been very difficult to sit down and just do. In some ways, I do not want to be so raw and negative as I have worked through my grief. I also did not want to open myself to unkind comments, since I have had a few "virtual" non-friends who made life difficult for me to share any deep feelings.

Since January of this year, we have been dealing with health crisis (plural) with both of my in laws. This has been on the heals of losing many more family members for us. It has been a blessing for us to help my in laws, and it has also been emotionally draining for us. We are still working together through our grief as a family. The children have processed their grief in different ways. Our 6-yr-old (who will be 7 tomorrow!) has a favorite song that we sing at church. It's called, "I'll Live Again." You can see a video of it here:



Our hope in the journey that we are on is that we will love again with Jesus one day in heaven. Isn't that a glorious promise to all who call on the name of Jesus and believe.

(If you don't know Jesus as your personal Saviour, email me. I will be glad to share with you.)

Until next time.

Labels: God; children; faith
posted @ 10:24 AM


Adjectives
Tuesday, August 24, 2010
I thought I would share a fun little game that I use to teach my children what an adjective is. Since we know that an adjective is a word that describes a noun, I wanted to put this into action for my hands-on learners. I took some Post-It notes and wrote a descriptive word on each paper. I used words like "sticky", "fuzzy", "cold", etc. Then I sent the boys around the house to put a sticky note on an item that was "sticky", "fuzzy", "cold", etc.

I got this idea from Jessica Hulcy's KONOS Volume 1 several years ago.

Until next time,
posted @ 9:10 PM


Friday, oh, how I love Friday.
Friday, August 20, 2010
HELLO, Friday! And it is the end of our third week of school. Ah, what a nice closure to the end of the school week. The boys and I did our school work this morning. I can truly say that I love being with my children and teaching them. It brings me great joy. It also allows me to know them better than anyone else knows them. Most of all I am allowed to teach them what I want to teach them in the way that I want to teach them.

Many years ago, the way children learned was from their parents. Somehow, we got away from that way of teaching. While I know that not every family can homeschool, I do know that it has been the best for my family. We started homeschooling 10 years ago when we had 3 children. Now, that we have doubled the number of students in our school, I am so content with my life. Even when I know that I have a 4-yr-old and have a long time left in this journey of teaching at home, I would not want to be doing anything else.

During the past ten years, our family has grown, and we have said good-bye to family. I am so glad my children had the chance to get to know my grandparents well. We miss them both so much. I am glad my children have had the time to see my in laws. Both of my in laws are very ill, and I am glad that we have had the time to help them when we could.

Time with family is treasured time.

Until next time,

Labels: family
posted @ 10:57 PM


Things are going swimmingly along
Thursday, August 19, 2010
Since I had some responses to my last blog entry, I am inspired to write again tonight. School went well for the boys today. We seem to have remembered those math facts that we tried hard to forget over summer break. And with the Bible curriculum that we use, the boys are using reading skills, comprehension skills, and writing skills all while learning more about the Bible. That's a win-win for me. We will review some of our grammar rules in the coming days. Grammar is important when all you want to do is play and chase bugs outside, right? Life with boys is certainly entertaining. I think they definitely understand what a VERB is.

I was reflecting over what we accomplished last year. One of the boys read three science textbooks last year. He was very interested in his science readings each day, and I had a hard time keeping him in reading materials. We have spent years doing science with textbooks and hands-on projects. And we have done the same with history. I think we have all developed a love and appreciate for science and history by reading and doing activities. Would you say that is true for you? I remember my schooling years, and history and science were not my favorite subjects. But once I started learning alongside my children, I found that hands-on activities really bring the fun out of science and history.

One more school day this week for the boys. Unfortunately, that is not the case for their mamma.

Until next time,

Labels: home education, homeschooling
posted @ 10:52 PM


Summer
Wednesday, August 18, 2010
Summer break is winding down for most of us. Well, for us, it is winding down. We started back with a light load of homeschooling about three weeks ago. The boys are doing math and Bible for now. We are participating in a supplemental co-op this year that will involve a the hands-on parts of a language arts program, history, and science. We don't start the co-op until the first week of September, so I am using this time to make sure everyone is on track with math. The cop-op days are designed to do a lot of the hands-on stuff, while the rest of the week we will spend teaching thecore parts of the curriculum from the same materials in our own homes.

I hope to take a beginning of year photo. I have a 10th grader, 6th grader, 4th grader, 2nd grader, and a preschooler this year. My daughter will graduate from community college at the end of this semester. I am still a full-time college student online, and I should have my bachelor's degree around this time next year. (A lot of my "spare" time is spent on my school work, so my blog is neglected a lot.)

Here's what we are using this year, in case you are interested:

high school - Apologia Biology, IEW Level C, AIG's Western Civilization, Saxon Algebra 2, Lifepac Bible

elementary - Apologia Human Anatomy; IEW Level A; AIG's Western Civ, Saxon (Grades 6, 4, and 2), Lifepac Bible

preschool - nothing structured planned. He hangs out with us most of the time. Lots of coloring, playdough, building blocks, and reading to him.

So that is the "scoop" on our school year. We are having a good time together ---- learning, living, loving life.

Until next time,

Labels: back to school
posted @ 10:26 PM


About Me
Name: Tami
Home: North Carolina, United States
About Me: I am a homeschool mom of six children with varied interests. I love my family, and I love to read and write for fun. I also have a homeschool bookstore at http://www.dhss.com. Copyright 2005-2012 Tami Fox
See my complete profile


Previous Posts
Archives
Categories
Links
Credits
Blog Design by Christi Gifford www.ArtDesignsbyChristi.com

Images from www.istockphoto.com